Enjoy Outdoor Entertainment Year-Round at Home
Create an Outdoor Living Space for All 4 Seasons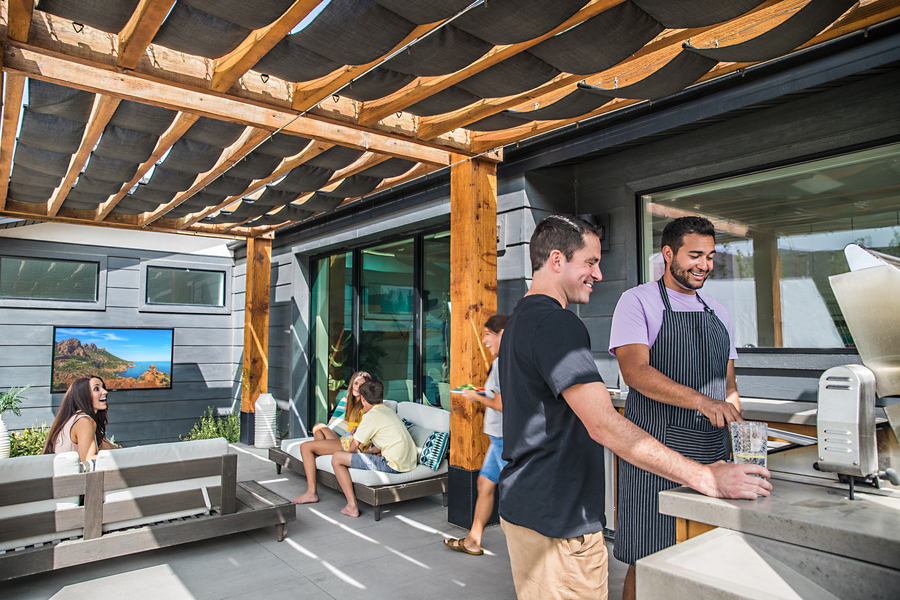 Who doesn't love a night on the patio or playing games on the lawn? It's a fact that spending time outdoors boosts our moods, relationships, and overall health.
But sometimes, we need to get out of the pool or put the badminton racket down and relax. Luckily, you can kick back with music, movies, and conversations in the fresh air when you have an outdoor entertainment space.
Get inspired for your Red Bank, NJ, home and see how you can build an outdoor living area that includes AV, lighting, and comfort controls.
SEE ALSO: How to Achieve a True Outdoor Entertainment Experience
What to Include in Your Outdoor Living Space
A home technology integrator like our team at Total Home Technologies can trench wires and connect outdoor AV equipment to one easy-to-control system. All you need to do is decide what you'd like to include in your outdoor living room!
Consider the following features:
Motorized screens and shades
Smart landscape lighting
Outdoor audio
Weatherproof TV
Heat lamps
Fireplace or firepit
Outdoor Entertaining Year-Round
Spring
The sun is finally returning to New Jersey, so why not make the most of warmer weather and budding flowers? High-end outdoor audio speakers are air-tight and durable against all weather. So even when the weather dips back to winter temperatures, your speaker system is safe outside!
Press "Play" on your system app, and music will evenly fill your backyard on a warm spring day. If it's windy and chilly, lower the motorized screen by pressing a button to insulate the outdoor room. Landscape lighting will bring new light to your home at night, and with smart LEDs, you can adjust the brightness level and color temperature.
Summer
Why stay cooped up indoors for movie night when there's a 4K screen outside? Create your own personal drive-in with a weatherproof display in your outdoor living space. Brands like Séura, SunBriteTV, and Samsung manufacture glare-resistant TVs that are bright enough to view even in direct sunlight. We can connect your outdoor speakers to the TV, too, so guests can listen to the game or movie from across the lawn.
And if pesky mosquitos are ruining the fun? Lower the motorized screen to keep insects out!
Fall
The air is crisp, and the leaves are beautiful shades of autumn. It may be colder, but many people love spending time outdoors in fall. Share hot cider in your outdoor living area around the firepit or gas or electric fireplace—which can also be integrated into your smart system! With string lights and music playing over outdoor speakers, you'll enjoy the ultimate fall experience.
Winter
There may be snow on the ground, but you can still extend your entertaining outdoors on a clear night. Incorporate heat lamps into your outdoor living space, either mounted on the ceiling or freestanding. With the fireplace crackling, you'll create lasting winter memories with warmth, music, and the New Year's Eve ball drop playing on your outdoor TV.
If you'd like to learn more about outdoor audio, video, lighting, and smart controls, contact Total Home Technologies or visit our showroom to see it all in action. We look forward to working with you!