Experience the Perks of Outdoor Audio Video for Your Home
Enjoy Outdoor Entertainment All Summer Long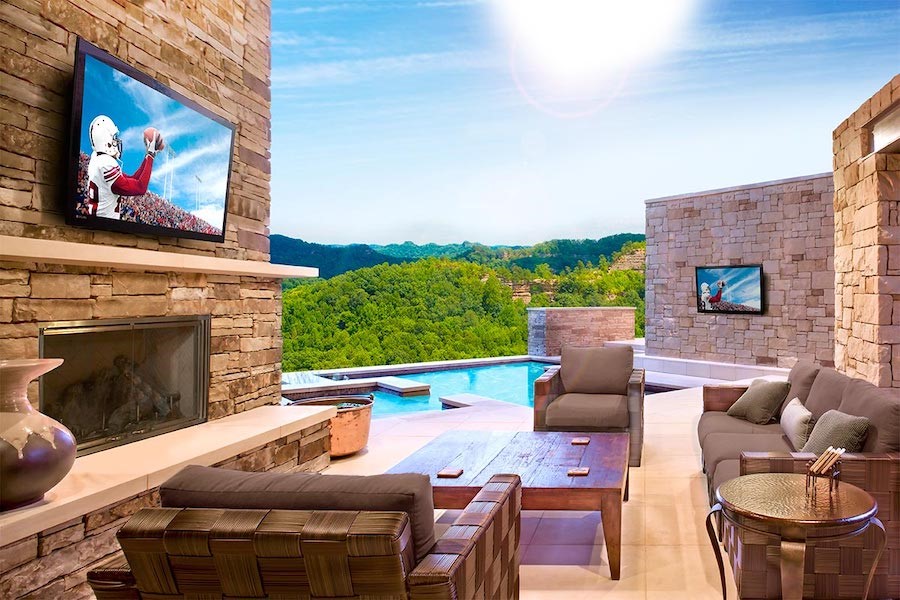 Warm weather is finally here in Bergen County, and it'd be a shame not to enjoy your home's outdoor space during the beautiful summer months. Maybe you have your pool ready to go, and your outdoor games and barbecue set up, but is your backyard equipped with an outdoor entertainment system?
Outdoor audio video can instantly enhance your summer activities at your New Jersey home. Keep reading to find out how.
SEE ALSO: Here's How to Extend Your Wi-Fi Further — and Outdoors Too!
AUDIO
When thinking of enjoying audio, the first thing that comes to mind is speakers. There are many outdoor speakers on the market that are built to withstand the elements without compromising performance. When it comes to landscaping, you can install outdoor speakers that fit your aesthetic and blend in with your plants, furniture, and lighting. You can also distribute speakers throughout your backyard to create surround sound — allowing you and your guests to hear what's playing wherever they're located outside.
The possibilities are endless with what you can listen to with outdoor audio. You can use multi-room audio to simultaneously play the same songs in your home's indoor space and your backyard, so your dance party follows you wherever you move. Want to meditate in your garden with your meditation app? You can count on outdoor speakers to give you clear, sharp sound. If you feel like listening to your current audiobook with a glass of wine after your workday, you can relax on your outdoor sofa as you take in the story through your speakers.
VIDEO
What's a perfect pairing to your weatherproof outdoor speakers? The answer is TVs that also handle any weather while giving you top-notch performance. You can find outdoor TVs that fight glare, giving you superior viewing even on the brightest days.
Every barbecue and alfresco dinner can be elevated with outdoor video. When you grill, you can have easy entertainment by turning on your favorite sports team or TV show. At your next dinner party outside, you can play a stylish movie in the background. Want to balance all the delicious meals you eat with some fun physical activity? Stream some exercise videos with your family and get your workout on together outside.
SMART HOME CONTROL
A way to make your outdoor audio and video system better connected and easier to control is smart home automation. With smart home control, you can manage your entire outdoor entertainment system with the touch of a button. If you want to quickly change tracks on a playlist for every speaker in your home, you can do so through your smart system connected to your phone. If you're having a movie night outdoors and it gets too chilly, you can move the party indoors and control both your outdoor and indoor TV through your phone as well.
Smart technology eliminates the hassle of having to go back and forth between multiple remotes. It also allows you to connect your outdoor entertainment system to other systems in your home, such as lighting, climate, and security — and control everything through one centralized hub.
At Total Home Technologies, we're passionate about delivering the most advanced technology in the industry. Our team of experts is ready to help you build an outdoor audio video system customized to your needs and wants. Reach out to us by filling out our online contact form or leaving a message through the chat box at the corner of your screen. We can't wait to hear from you!