Smart Lighting Control: Improve Your Home's Wellness & Safety
Bathe Your Home in Tunable Light—You May Just Feel Better & Safer.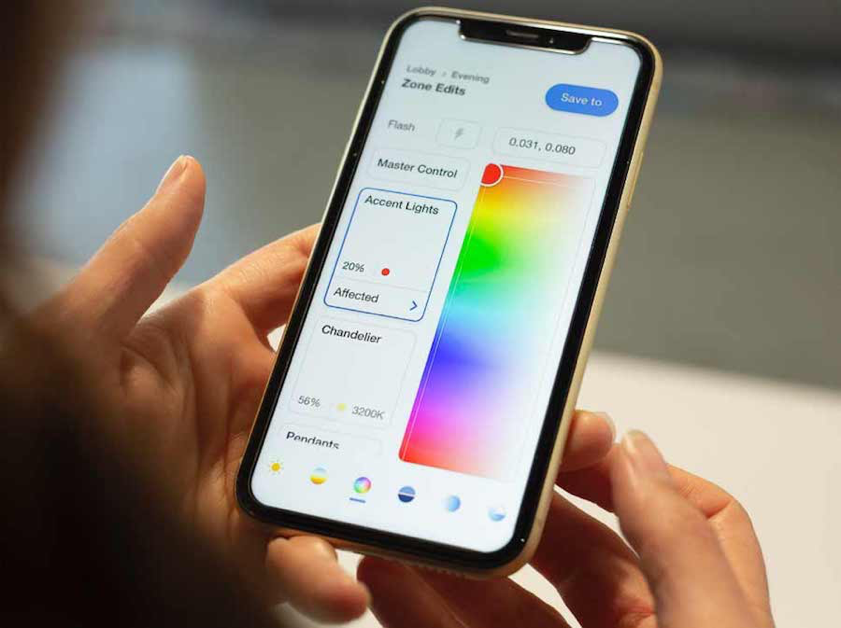 In the past year, we've seen smart lighting attract more and more New Yorkers—perhaps due to abundant time spent at home. If you've dipped into smart lighting control at all, then you've seen how addicting it is. Once you are able to customize the color and brightness of one lightbulb, you'll want your entire home's lights to be tunable, too.
With a smart lighting system, you can adjust your lightsinstantly from a smartphone app or create a schedule for LEDs to turn on and shift colors automatically. The high-definition color palette lets you drench your home in color, pinpointing the exact shade you want. Plus, motion sensors can help control when lights are on, illuminating rooms only when you need.
But maybe you're wondering, 'Why would I use that? My regular lightbulbs are fine!' That's a common question we hear, and we understand the confusion. Read on to see when tunable smart lightingis not only funbut also can improve your health and safety in your New York, NY, home.
SEE ALSO: 4 Ways You'll Actually Use Home Lighting Control
Regulate Your Circadian Rhythm
One of tunable lighting's greatest advantages is helping to regulate our circadian rhythms. Our bodies rely on the sun's patterns to tell us when to feel alert, sleepy, and hungry on a cycle. But by spending our days indoors under artificial lights, our minds miss that signal, and our rhythm is thrown off course. Smart lighting fixes that, replicating natural light by gradually shifting LED's brightness and color temperature throughout the day.
Mornings: Cool, Bright White
When you start your mornings with a bright, cool-white tone, you'll energize your mind to start the day. A bluish-white, at about 6,000-7,000 Kelvins, replicatesthe early morning sun, triggering your circadian rhythm to make you feel more alert. A bright lighting setting like this is ideal for morning routines in the bathroom,so you can see your reflection properly in the mirror.
Midday: Natural White
A neutral, soft bright white brings comfort and energy for daytime and early afternoons. It's not too bright but won't inspire heavy eyelids, either. Set your smart lights to a color temperature around 3,500-4,000K at a lower brightness than your bright bathroom setting, about 3,000-6,000Lumens.
Evenings: Warm, Golden Light
Enjoy the cozy atmosphere of candlelight or a campfire when your Ketra smart bulbs are tuned to a soft, amber glow around 1900K. Warm lightingis perfect for nighttime, as it sends signals to your brain that it's time to sleep soon.
Stay Safe with Motion Detectors
Through alighting control system, we can sync your smart lights to motion sensorsthat will work in tandem to keep you safe. If you wake up in the middle of the night, for instance, lights will automatically turn on to a low-level brightness in the hall. You'll walk freely without stumbling in the dark and won't have to brace your eyes for daytime-level brightness. The bulbs can automatically turn off after ten minutes or so, whatever you'd like to set your system to.
Landscape lighting can also use motion sensors for increased safety. Your driveway or front steps can illuminate once you arrive, turning off minutes later. If there's anyone at your front door, lights can activate or change color to let you know.
Make the Most of Your Home
A professional lighting design looks at the layout of your home and applies lighting to enhance and expand the space. A lighting designer like Total Home Technology builds layers of lighting—ambient light, general illumination, and specific task lighting—and makes it easy for you to control with a Lutron lighting system. We'll program your lights so not only will your home look great, but you'll experience more wellness and safety, too.

Curious to learn more about smart lighting control? You can read more about it in our blog series here.

And if you're interested in smart home technology in New York, contact Total Home Technologies for any questions you may have.

No video selected.