What Will Your Home Theater Look Like?
Home theater design advancements blend style and technology.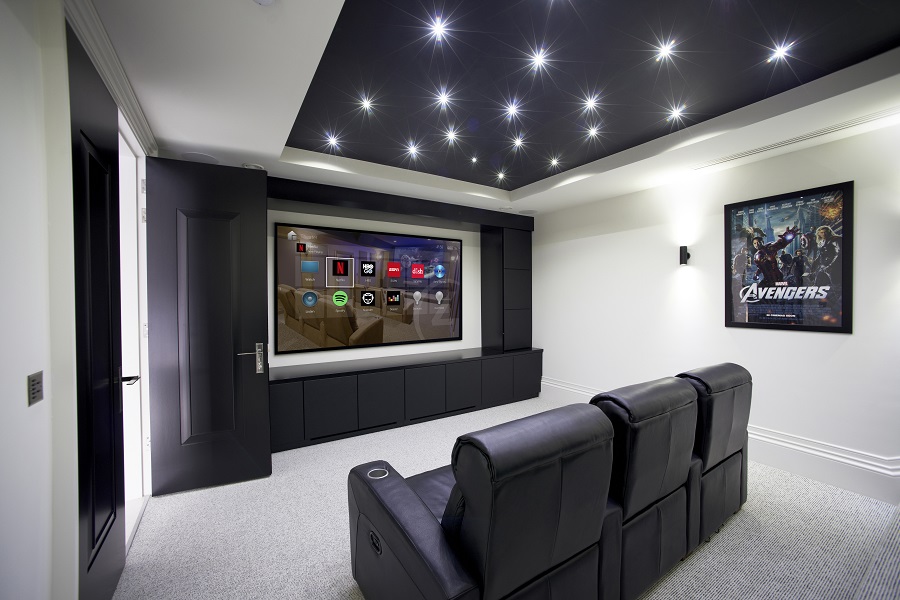 It's 2020, and the lines between interior design and smart technology are starting to blur, and your home can benefit in a big way. If you are a homeowner who loves design in New York, NY, but you don't want technology cluttering your space, you need an integrated technology system. At Total Home, we simplify adding technology to your property, whether it's for security, entertainment, or fun. In this blog, we'll highlight some smart home theater design elements that'll satisfy your family and your aesthetics. Keep reading for more.
See Also: Why You Need Whole-Home Video
Ultra Short-Throw Projectors
Projectors are a traditional way to enjoy a theater experience in your property. Ultra-short throw, a contemporary cousin, provides that traditional flare with a modern twist. Instead of sitting multiple feet from the screen, ultra-short-throw units live up close, merely inches away from the projection surface. They're encased in beautiful cabinetry that works as a piece of furniture and an entertainment device.
Sony's popular ultra-short throw projector has transformed the way many homeowners watch their favorite content. And at this year's IFA, Samsung unveiled its own 4K device. Displays are changing in the new decade, and when you're not using them, they can disappear entirely from view. You'll never have to trade style for functionality again.
Tunable Lighting
Wellness is the buzzword of the year. Your technology shouldn't just simplify your day; it should help you feel better too. One of the most popular innovations is tunable lighting. Adjust color temperature yourself, or let the smart system work automatically throughout the day. The changes simulate natural light. In the afternoon, light is sharp and white, while in the evening, the light turns softer and yellowish. Changes in intensity help you find your circadian rhythm, so you'll enjoy a more restful sleep and more productive days.
In a home theater, tunable lights help you relax. They reduce the impact of harsh lighting on the screen while offering modern design customization. With just a few swipes on your smart control device, you can adjust the intensity, brightness, and more of the fixtures to enjoy your content in the perfect viewing environment.
Motorized Shades
For many home theaters in New York, a significant challenge is an ambient light. That's the light that seeps in from behind the shades, the door, and other places that are hard to manage. Smart shades combine with home theater controls and automatically lower when you're watching a movie or show. With one button, you can turn on the system, dim the lights, and lower the shades.
If you're interested in working with us, click here or give us a call at (877) 550-5150 today!