What You Need to Create an Immersive Home Theater
With the right equipment, you can build a space in your Morris County, NJ, home to rival any multiplex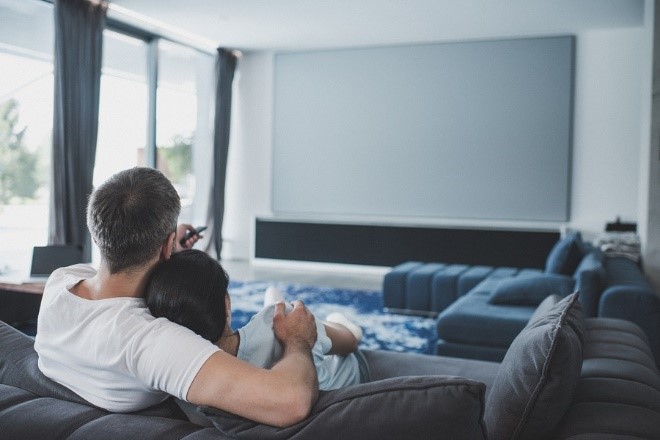 The summer blockbuster season is almost upon us, and with it comes the biggest, loudest, biggest cinematic spectacles theaters have to offer. Many of us will trek to our local movie theater to experience the latest adventures of the Avengers or Toy Story 4, but what happens when the movie is over? How can you recreate that same level of quality and immersion a theater provides?
With the right equipment and the right installation, you can create a home theater that is just as good, if not better, than heading out to the movies. And we're here to show you how. Here's what you need to build a top-notch home theater system in your Morris County, NJ, home.
SEE ALSO: What's So Great About Smart Home Technology?
VIDEO
There is much debate over which brand produces the best-quality displays, but broadly speaking there's an easy answer for what kind of TV is best for your home theater: A 4K Ultra HD TV. While you can buy a handful of 8K TVs, there's very little native 8K video content available to watch, which makes 8K TVs a premature investment right now.
But not all 4K TVs are built the same. For your home theater, you want a TV that has High-Dynamic Range imaging, or HDR. HDR gives you a broader, more vibrant range of colors than 4K displays without HDR, which creates greater contrast to make images jump right off the screen.
If possible, go for an OLED 4K TV instead of an LCD or regular LED display. Instead of using backlighting panels, OLED TVs individually light each pixel on screen. It may seem like a minor distinction but lighting the screen helps to separate brighter and darker tones, so you get that true black color for a sharper image.
An important factor when it comes to building a 4K home theater system: Every component must be 4K compatible. That includes a 4K receiver, the right kind of cabling and a network fast enough to handle 4K streaming. Not sure exactly what you need? We can help guide you to the best products for your system.
SOUND
For the best in home theater sound, a great option is Dolby Atmos. Other audio systems may deliver powerful sound, but Dolby Atmos is the most immersive system currently on the market.
Typically, you build a surround sound system by placing speakers spread out around the room, including center, left, right, and rear channels. Dolby Atmos works by rendering every sound distinctly and places the sound in a 3-D soundscape created by speakers throughout your home theater, including devices placed overhead.
This creates a powerful feeling of immersion, which only works properly if whatever you're watching or listening to is mastered for Dolby Atmos. Even the movie you're watching is not Dolby Atmos compatible, you'll still get immersive sound.
ACCESSORIES
There's more to consider for your home theater beyond what video and audio systems you want to use. Among other factors, your choice of décor and furniture can make a major difference in the feel of your home theater.

You could opt for a traditional sofa or set of chairs, but why not install theater-style seats instead? With how much time you'll be spending in your home theater, comfortable seats are a must, and theater chairs can enhance "theater" feeling of the room.

You shouldn't be afraid to add your own style to your home theater. You could create a theme based around your favorite movies or film genres, put theater-style posters on the walls, maybe even add a popcorn machine. A custom home theater is a significant investment, so don't be afraid to make it your own.

To learn more about our home theater systems, call our office in northern New Jersey at (973) 227-0550 or fill out our online contact form. You can also speak with a customer service representative by clicking on the chat box in the corner of your browser.

No video selected.