How to Achieve a True Outdoor Entertainment Experience
Enjoy the Sights & Sounds of an Amazing Audio-Video Setup in Your Outdoor Space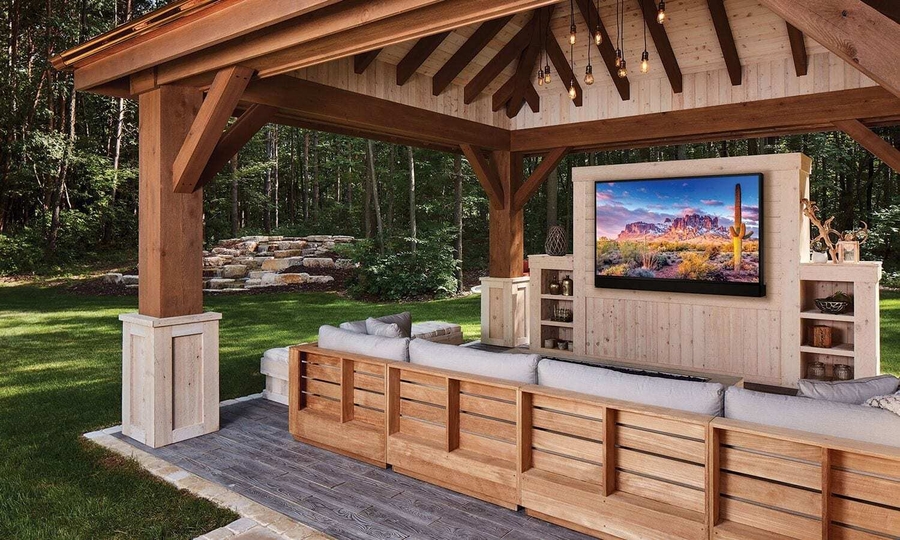 Do you enjoy spending time outside – chatting with friends on your patio, throwing the football with your kids in the yard, or wading in the pool when the weather is warm? When you have a luxury home, there are so many good reasons to make the most use of your exterior spaces. But to have a true outdoor experience at your Red Bank, NJ home, you need the best audio-video system to take the fun to the highest of heights.
Premier outdoor TVs and landscape speakers turn your patio, pool deck, and entire backyard into a desirable space for outdoor entertainment and enjoyment. Read our blog to learn how to revitalize your outdoor areas with the sights and sounds you love.
SEE ALSO: Experience the Perks of Outdoor Audio Video for Your Home
Outdoor TVs That Capture Attention
What transforms your home theater into the perfect room in your house for watching movies? It's not simply the décor and luxury seats. Instead, it's the display! Big, bright, and bold – your large TV or screen captures your attention with vivid and bright colors. The same can be true for your outdoor TV. But before you put an indoor TV outside, think again.
Outdoor TVs are not only built to withstand temperature and weather fluctuations, but they can compete with the sun's brightness. In fact, they are between two times and four times brighter than indoor displays. Install one on your patio, pool deck, or outdoor kitchen, and you'll enjoy a vivid picture at any time of the day – and from any angle. Much like your indoor TVs, an outdoor TV has 4K resolution, HDR, and many smart features (such as smart home control) that make your outdoor viewing pleasurable.
The Stunning Sound of Stealth Speakers
Don't rely on your TV speakers to enjoy music on your property. They simply won't deliver the power, quality, and surround sound you need. Instead, landscape speakers are a must if you want immersive, high-fidelity sound in your outdoor spaces. A robust and properly installed outdoor audio system is the only way to truly enjoy movies and music when spending time outside.
But what if you want to hear your speakers but don't want to see them? Many premium outdoor audio brands design hidden speakers that disappear into your yard. Some of them, like subwoofers, are literally buried in the ground. You can even have speakers that blend in with walls, gazebos, and other structural components around your home. Once installed, you, your guests, and your family will enjoy amazing and immersive audio without seeing the technology.
The Complete Outdoor Entertainment Package
After installing outdoor TVs and a sound system, don't stop there! It can get even better. By adding other technologies like landscape lighting, smart control for pool and hot tub pumps and lights, and other outdoor technologies, you make your backyard into an entertainment haven.

Discover Total Home Technologies can make your outdoor area your favorite spot for entertaining. Call us today at (877) 550-5150 or fill out our online contact form to schedule a consultation. We look forward to hearing from you.

No video selected.